The success of new product development, has been put into production
Views:33 Author:China One Two Three Electric Publish Time: 2014-05-18 Origin:China One Two Three Electric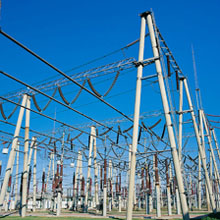 The company successfully developed new products, have been put into production of industrial and civil buildings in the important load power supply continuity requirements to promote the end of the low-voltage power supply is mainly used for dual power automatic transfer switch electrical appliances and equipment (referred to as dual power switch or ATSE) development. In recent years, ATSE in the application of new technologies, new product development, standard setting, advocacy and promotion applications have been greatly developed. After the following major technical developments of ATSE reviewed the analysis, describes the development and application of a typical integrated KB0S type ATSE products, and to explore issues and trends facing the ATSE.
ATSE overview of the development
Development History
Dual power automatic transfer switch has a long history as a major after the electric energy, due to conversion problems between different power supply for important loads, ATSE is bound to be applied. However, due to limited demand ATSE past, not the ATSE as an independent or a certain kind of specific categories of products to look at. Previous ATSE generally designed by the institute, electrical packages or business users with direct contacts, relays, circuit breakers knife switch or by a mechanical interlock, the controller constitute dual power conversion system.